The participation of the father in the postpartum period is fundamental. See the reasons.
The arrival of a child is a wonderful time for parents. Although it is shared by two, the mother has a more present role in the first few days, besides having the postpartum pain, it is up to her to feed the baby.
The first few days after the baby's birth are complicated It is necessary to manage and adapt the couple's life to a new member who needs a lot of attention and support.
Often the early times are complicated. On the one hand, the mother feels she needs to do everything, on the other the man feels disoriented.
Dialogue is the only way to get things right.
Things Father should do to help the woman after the baby is born
Control visits
When a baby is born, friends and family, they love to visit the newborn and mom.
Some go to maternity, others go to the parents' house, the first few days are very complicated.
The family is adapting to a newborn, mom is recovering from childbirth and the visits are many.
The father must have a fundamental role in the management of these visits, limit the time and the time of the visits.
Share the tasks
Division of tasks is very important.
Not only to take care of the newborn but also to maintain the proper functioning of the house in the tasks of the day to day.
The woman should not feel that it is her duty to take care of the baby and to keep the house clean, the clothes washed and the food on the table.
Even if the father claims that he does not know how to do some things, there are many things in which his participation is important.
Putting the baby to sleep, bathing the baby, putting on a burp, passing the broom and vacuum cleaner, shopping, keeping things in the right place.
Support the woman
Support is paramount, you do not have to do everything. Small gestures and attitudes are worth a lot.
Bring a little treat to the mother. Be present at times like breastfeeding.
Take care of the baby for the mom to take a long shower or to take a nap, that is, to be attentive to the needs of the mom.
Praise
Do not be afraid to praise your wife.
She was mother has the hormones are heels, do not feel comfortable with the body.
He is afraid to do something wrong with the baby, to say that he loves her, that he is an excellent mother, wife, companion.
Say everyday that you are beautiful and wonderful is key to maintaining a healthy relationship and increasing a woman's self esteem.
Fill the house with love.
Gallery
Overcoming postpartum depression : 10 ways to cope
Source: www.craftymotherfather.com
Feeling Postpartum Depression? Will antidepressants help …
Source: www.lovebecreate.com
35 Mother Son Tattoos That Will Make You Miss Your Mom
Source: themommydaily.com
Catelynn Lowell Baltierra discusses postpartum depression …
Source: www.dailymail.co.uk
California mother gets life in prison for stabbing her …
Source: www.dailymail.co.uk
Grandparent Babysitters and Grown-Up Vacations
Source: alphamom.com
Catelynn Lowell Baltierra discusses postpartum depression …
Source: www.dailymail.co.uk
This Dad Stumbled Upon a Video of His Son's Mother Abusing …
Source: www.redbookmag.com
Certified Doula in Spokane and Coeur d' Alene area
Source: www.overthemoonbirthing.com
How to help your child give up the dummy
Source: babyology.com.au
10 Loving Ways to Take Care of Your Pregnant Wife or …
Source: fittobepregnant.com
35 Mother Son Tattoos That Will Make You Miss Your Mom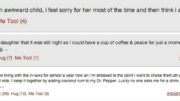 Source: themommydaily.com
Eco-Friendly Gift Guide
Source: dailymom.com
6 More Characters We'd Like to See in Daredevil
Source: ap2hyc.com
Drowning death of toddler prompts backyard pool warning
Source: babyology.com.au
I have a newborn child. What advice can you give to a …
Source: www.quora.com
Postpartum Depression Stock Photos and Pictures
Source: www.gettyimages.ca
Best Pregnancy Apps Every Mom-to-be Needs in Their Life
Source: www.checkpregnancy.com
10 Tips for New Dads – Modern Day Moms
Source: moderndaymoms.com
Mother's Day 2017: Top Gifts for Moms
Source: dailymom.com